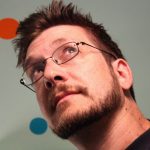 Like many folks, I drew a lot when I was a kid. I was spellbound by the high fantasy art of Dungeons & Dragons, and was an avid comic book reader. Over the years, I've managed to turn that passion into a career as an illustrator and graphic designer.
For the past decade, I've been primarily focused on producing art and graphic design for clients in the tabletop game industry. I've worked with dozens of game designers, and have been fortunate enough to develop great working relationships with some exceptionally creative people.
To do justice to their hard work, I find it crucially important to communicate clearly with my clients so I can deliver something that they'll be proud to have representing their game. And so while I adhere faithfully to a client's brief, I'll always try to inject some personality into the work, and look for an inspired or offbeat angle.
I'm typically available for commissions and projects of any size, from personal illustrations to complete game art packages, so feel free to contact me! nick@angryfungus.com